We are currently worshiping in-person and via a livestream.
Sunday Morning Services
9:00 a.m. Service – Contemporary – CURRENTLY ON HOLD
Our 9:00 a.m. service is a more casual service with contemporary Christian songs led by a praise band. It is held in the chapel/parlor. Children are welcome to remain in worship with their families or ages infant to 3 years can head to the nursery. There is an activity area available with books, art supplies, and toys which allows you and your children to still be a part of worship.
10:30 a.m. Service – Traditional
Our 10:30 a.m. service is a traditional service held in the sanctuary. There is always excellent music offered by our organist/pianist, adult choir, handbell choir, or guest musicians. Children are invited to join their families in worship or staffed childcare is available for infants through 3 years old downstairs in Rooms 107 and 109. There is a room located at the back of the sanctuary for parents with babies or small children to stay together and still see and hear the service.
Have questions about our worship services? Read our FAQ.
Godly Play (Pre-K – 4th Grade)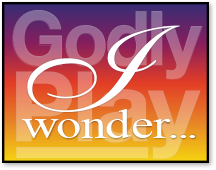 Godly Play is a Montessori-style learning setting where children explore Bible stories with artifacts and hands-on engagement with a sense of wonder and creativity. Led by nationally-certified teachers with a passion for helping children use their imaginations. Contact Pastor Danielle to enroll your children or grandchildren.