Sunday Morning Services
Our 9:00 a.m. service is a more casual service with contemporary Christian songs led by a praise band. It is held in the chapel/parlor. Children are welcome to remain in worship with their families. There is an activity area available with books, art supplies, and toys which allows you and your children to still be a part of worship.
Our 10:30 a.m. service is a traditional service held in the sanctuary. There is always excellent music offered by our organist/pianist, adult choir, handbell choir, or guest musicians. Children are invited to join their families in praise and worship. Staffed care for children is available for infants through 3 years old downstairs in Rooms 107 and 109. There is a room located at the back of the sanctuary for parents with babies or small children to stay together and still see and hear the service. We also set aside a special time near the beginning of the service for our pastor to share a story or teach a concept specifically for children. Following this time children are welcome to remain with their parents or participate in a Sunday School class.
Communion is served the first Sunday of every month and at other special services throughout the year. Holy Communion is open to everyone including children. You do not need to be a member of our church, or any church, to come to the table. Gluten-free bread is available at both services. If you choose not to receive Communion, simply remain seated when others go forward.
Have questions about our worship services? Read our FAQ.
Got Kids or Youth?
Full disclosure…there are a lot of grandmas and grandpas in our church. But there is a growing number of young families with infant to high school age children. And, our grandmas and grandpas will adopt your kids given half a chance, so keep them close to you on a Sunday morning.
We are proud of our Godly Play and Connect classes on Sunday morning, and our middle school to senior high youth group is growing and starting to work with other churches nearby.
We like to gather our youth at least once a month for some event and you can expect Vacation Bible School and a youth mission trip, as well as family camp opportunities. We even host Tot Spot, Tuesday and Thursdays, a program for parents and little ones sponsored by Walla Walla Community College.
Godly Play  (Pre-K – 4th Grade)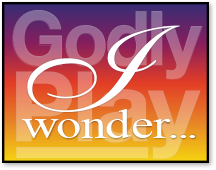 Godly Play is a Montessori-style learning setting where children explore Bible stories with artifacts and hands-on engagement with a sense of wonder and creativity. Led by nationally-certified teachers with a passion for helping children use their imaginations.
Hey, Mid-Highs! (5th – 8th Grade)

Connect traces broad themes in the Bible that illustrate a God continuing to create and write God's story…a story in which we are all characters. There is a game, video, discussion and a craft each week.
What Else You Got?
Taize Prayer Service – 2nd Sundays
Come and Find the Quiet Center
Join us on the second Sunday of every month at 6:30 p.m. in the Chapel for a quiet hour of contemplative prayer.
The Taizé (pronounced tah-ZAY) service offers a spiritual experience that many find missing in their personal lives or in traditional worship services. It consists of candlelight, song, silence, prayer and scripture reading. There is repetition in the words of the music, there are many periods of silence, and the readings are read slowly—all so that we may have a deep quiet grow in our hearts. Then we may be still and at peace in the presence of God.
The prayerful atmosphere is in keeping with the original intention of the ecumenical Taize movement which began in France after World War II – to "attempt to build reconciliation in a broken world."
Step aside for a while. Come into the light. All are invited.
Intersections – 4th Sundays
Music and Conversation

On the fourth Sunday of the month we offer an intersection of theological conversation and music. The music may be contemporary, jazz, country, bluegrass…whatever we can find. This music may or may not be sacred music…but the conversation will be relevant to our lives today. The gathering will begin with a light supper at 6:00 p.m. followed by music and dialogue at 6:30 p.m.
Pub Theology – 2nd and 4th Thursdays
Toast Reality
Join us at 7:00 pm at Mill Creek Brew Pub and Restaurant on the second and fourth Thursdays of the month.  There will be adult beverages, good conversation, and fellowship.  Bring a friend!